신제품 DrySyn Prodigy를 소개합니다. 본문
DrySyn 히팅 블록 500, 250, 100, 50mL 키트
Drysyn single position heating
500ml base with heat resistant handle
50, 100, 250ml Insert 중 1 선택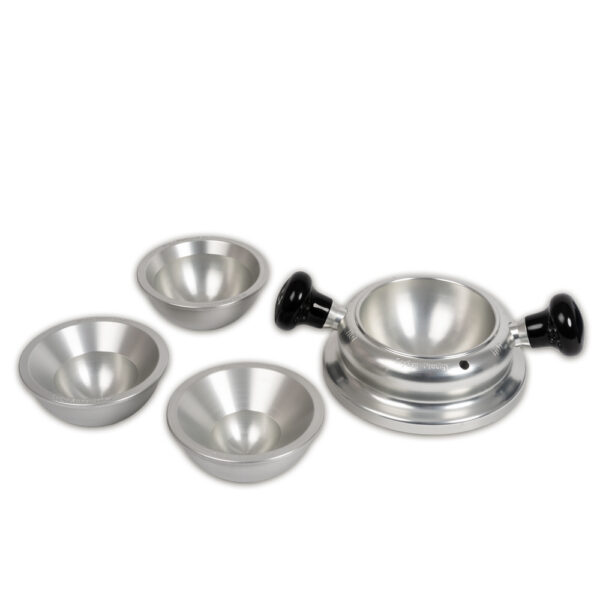 DrySyn Prodigy
The NEW DrySyn Prodigy offers oil-free heating of round bottom flasks up to 500 mL using fully recyclable materials.
Simple and safe
It's easy and safe to use, with heat-resistant handles and adjustable feet that enable fitment to any laboratory hotplate which is ideal for growing labs with mixed equipment! This is a great solution for those wishing to synthesize chemicals at benchtop scale, and want to save space and materials.
Effective, and environmentally responsible
Manufactured from chemically resistant aluminium with an anodised finish to ensure a long lifespan, the DrySyn Prodigy's nesting design enables chemistry across the most common benchtop volumes. The platforms' low profile gives excellent reaction visibility and reduces the risk of any glassware breakage. With outstanding heat transfer and stirring (via magnetic flea), the DrySyn platform is renowned for making lab life both easier and safer by removing the need for potentially hazardous oil baths and mantles. This platform also removes the need for costly oil supplies and disposal.
Designed to suit round bottom flasks in 500 mL, 250 mL, 100 mL, and 50 mL, you can purchase elements either individually or choose from a range of handy kits.
Technical Specifications
Single position oil-free heating block platform
Anodised aluminium body with screw-in heat-resistant handles supplied as standard
3.5 mm hole for temperature probe and thermometer hole for standard glass thermometers
Heating and stirring via magnetic hotplate stirrer and magnetic flea
The DrySyn Prodigy can be used for temperatures of up to 300 ᵒC, however for prolonged use at high temperatures please check that your hotplate is suitable without affecting its lifespan.
Fits standard ISO size round bottom flasks
Optional 50 mL, 100 mL and 250 mL nesting inserts (not compatible with other models of DrySyn) for use within the 500 mL DrySyn Prodigy Base
DrySyn Prodigy Kit
더 자세한 설명이 필요하다면 켐코코리아로 문의하세요~!
켐코코리아 주식회사
Tel. 043-215-2012
e-mail. ck@chemcokorea.com
Web. http://www.chemcokorea.com/
Comments