Photo Reactor 장비를 사용한 논문 본문
We typically send out a year-end review of our favorite photochemistry papers every January. We really enjoy putting together that list, although we always have significantly more papers that we like than spots on the list. That list ends up being heavily biased towards papers published towards the end of the year. As a remedy, we thought a nice lazy midsummer activity would be to update our favorites so far. A few papers that we highlighted so far this year include a photochemical surprise, a Fenton Boat and photochemical DNA sequencing. You can read more on those in our blog. Without further ado, here is a selection of things we found fun, interesting, and confusing to start 2023.
Paper 1:
High-Throughput Determination of Stern−Volmer Quenching Constants for Common Photocatalysts and Quenchers
(Open Access)
Authors: Rachel N. Motz, Alexandra C. Sun, Dan Lehnherr, and Serge Ruccolo
Ref: ACS Organic & Inorganic Au, 2023 Articles ASAP
Link: https://pubs.acs.org/doi/full/10.1021/acsorginorgau.3c00019
Tweet (or xeet, or X or whatever it's called today):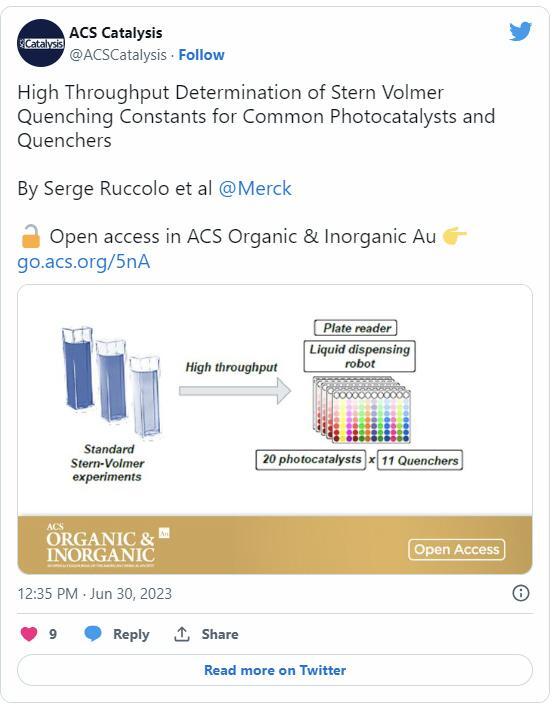 Comment: Give a team a robot and a library of photocatalysts and quenchers and you can get a high-throughput method for Stern-Volmer studies and a ton of data. This paper seems destined to be cited about 7 million times as everyone's reference of choice.
Paper 2:
Anaerobic Hydroxylation of C(sp3)–H Bonds Enabled by the Synergistic Nature of Photoexcited Nitroarenes
(Open Access)
Authors: Joshua M. Paolillo, Alana D. Duke, Emma S. Gogarnoiu, Dan E. Wise, and Marvin Parasram
Ref: J. Am. Chem. Soc. 2023, 145, 5, 2794–2799
Link: https://pubs.acs.org/doi/10.1021/jacs.2c13502
Tweet: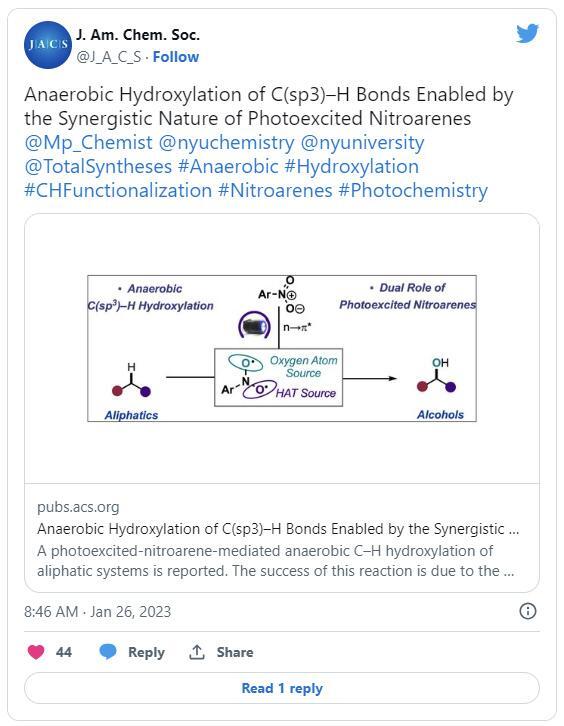 Comment: From time to time, we must explain to someone how and why our company is named HepatoChem? Our original and still on-going business is oxidizing drug compounds to make metabolites. So, when we see a paper that combines our two favorite things, hydroxylation and photochemistry, it's going to make our list.
Paper 3:
Photoredox Product Selectivity Controlled by Persistent Radical Stability
Authors: Bernard G. Stevenson, Cameron Gironda, Eric Talbott, Amanda Prascsak, Nora L. Burnett, Victoria Kompanijec, Roman Nakhamiyayev, Lisa A. Fredin*, and John R. Swierk*
Ref: J. Org. Chem. 2023 ASAP
Link: https://pubs.acs.org/doi/full/10.1021/acs.joc.3c00490
Tweet: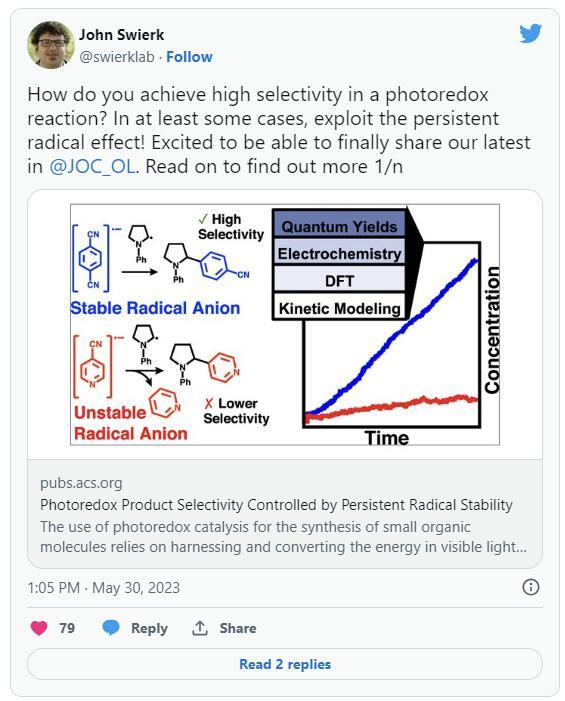 Comment: We're always up for a good mechanistic study to show us that we don't understand the things we do as well as we thought we did. It's a late edition to our summer read list, but we'll certainly have thoughts on this recent one as well.

.
Paper 4:
The Merger of Aryl Radical-Mediated Halogen-Atom Transfer (XAT) and Copper Catalysis for the Modular Cross-Coupling-Type Functionalization of Alkyl
Iodides
Authors: Lewis Caiger, Huaibo Zhao, Timothée Constantin, James J. Douglas, and Daniele Leonori
Ref: ACS Catal. 2023, 13, 7, 4985–4991
Link: https://pubs.acs.org/doi/10.1021/acscatal.3c00571
Tweet: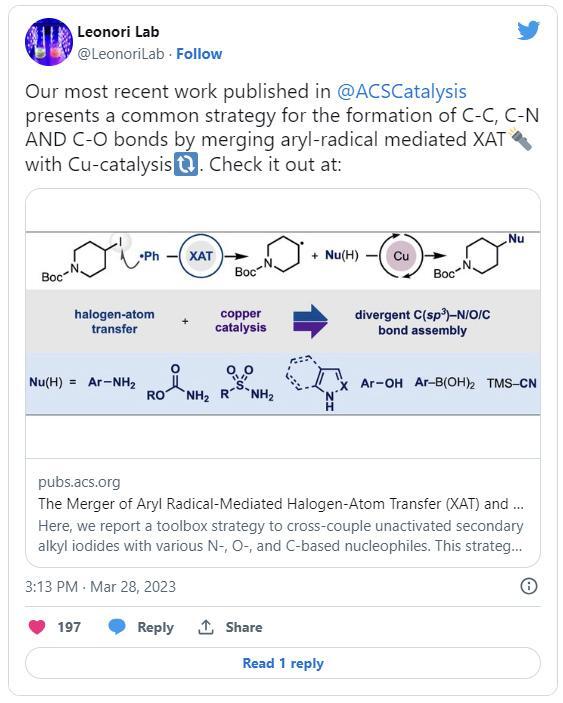 Comment: A great work from the Daniele Leonori lab with the AstraZeneca. With a cameo from the Lucent360 as well.
Paper 5:
Harnessing Sulfur(VI) Fluoride Exchange Click Chemistry and Photocatalysis for Deaminative Benzylic Arylation
Authors: Deepta Chattapadhyay, Akin Aydogan, Katarzyna Doktor, Arunava Maity, Jiun Wei Wu, and Quentin Michaudel
Ref: ACS Catal. 2023, 13, 11, 7263–7268
Link: https://pubs.acs.org/doi/10.1021/acscatal.3c01981
Tweet: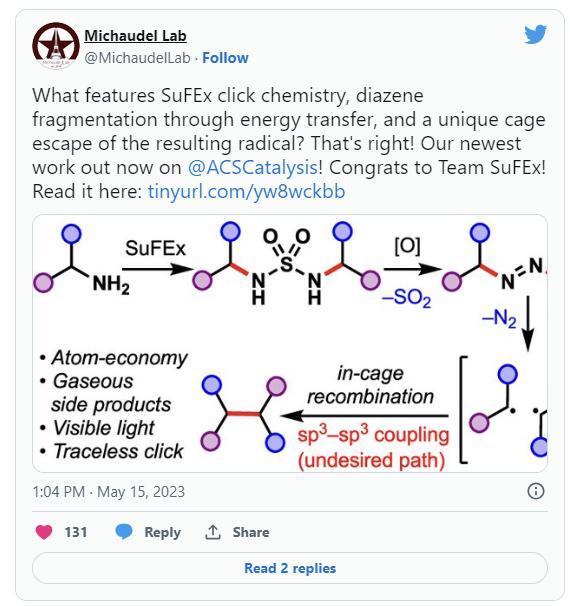 Comment: We really enjoyed this recent work by new PhotoRedox Box Users in the Michaudel lab. We look forward to seeing what's next.
Paper 6:
Photocatalytic and Photoinduced Phosphonylation of Aryl Iodides: A Batch and Flow Study
Authors: Romain Lapierre, Thi Minh Thi Le, Bruno Schiavi, Damien Thevenet, Marc Bazin, Ryan Buzdygon, Philippe Jubault,* and Thomas Poisson*
Ref: Org. Process Res. Dev., 2023, ASAP
Link: https://pubs.acs.org/doi/10.1021/acs.oprd.2c00379
Tweet: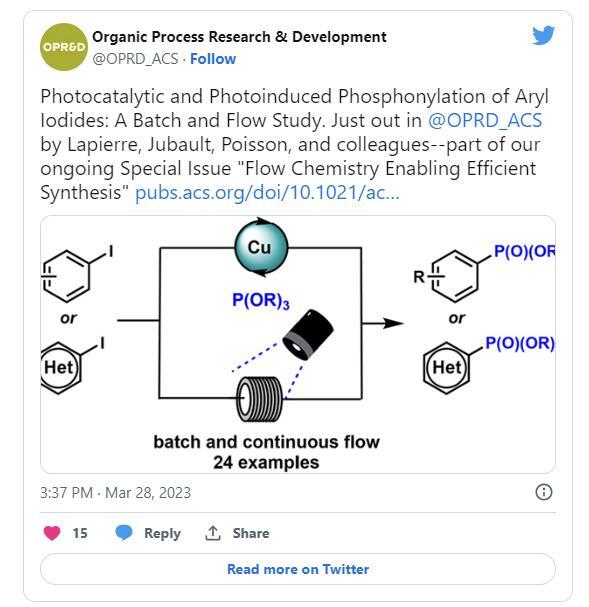 Comment: We're grateful to Professors Poisson and Jubault and coworkers for letting us play a small part in their study looking at the phosphonylation of aryl iodides. Check this out for a look at the Lucent360 in action for scale up in batch and flow.
Paper 7:
Metal−Organic Bichromophore Lowers the Upconversion Excitation Power Threshold and Promotes UV Photoreactions
(Open Access)
Authors: Han Li, Cui Wang, Felix Glaser, Narayan Sinha, and Oliver S. Wenger
Ref: J. Am. Chem. Soc. 2023, 145, 20, 11402–11414
Link: https://pubs.acs.org/doi/full/10.1021/jacs.3c02609
Tweet: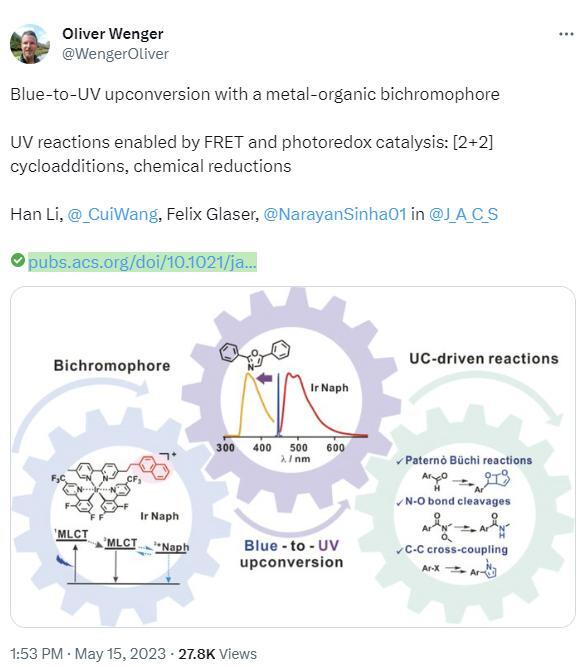 Comment: We recently added UV capabilities to the Lucent360 extending the instrument's range from 254 nm to 808 nm. As a result, we've started looking more into reactions that can be run at more "traditional" photochemistry wavelengths in the UV but also have visible light companions. That reading led us here, a great example of upconversion of blue light into the UV region.
Paper 8:
Mechanisms and Synthetic Strategies in Visible Light-Driven [2+2]-Heterocycloadditions
Authors: Pietro Franceschi, Dr. Sara Cuadros, Dr. Giulio Goti, Prof. Dr. Luca Dell'Amico
Ref: Angewandte Chemie Int. Ed. 2023, 62 (8), e202217210
Link: https://onlinelibrary.wiley.com/doi/10.1002/anie.202217210
Tweet: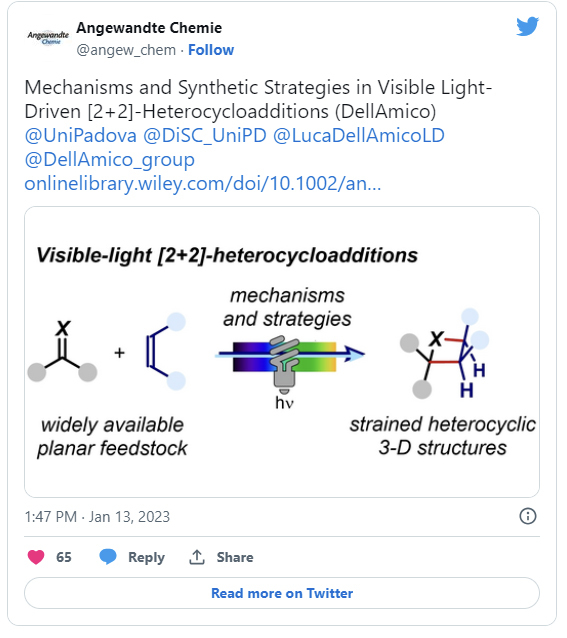 Comment: Another paper that we found via our foray in UV chemistry. Here a great look at the historical development of visible-light alternatives for [2+2] cycloadditions.
Paper 9:
Photobiocatalytic Strategies for Organic Synthesis
Authors: Megan A. Emmanuel, Sophie G. Bender, Catherine Bilodeau, Jose M. Carceller, Jacob S. DeHovitz, Haigen Fu, Yi Liu, Bryce T. Nicholls, Yao Ouyang, Claire G. Page, Tianzhang Qiao, Felix C. Raps, Damien R. Sorigué, Shang-Zheng Sun, Joshua Turek-Herman, Yuxuan Ye, Ariadna Rivas-Souchet, Jingzhe Cao, and Todd K. Hyster
Ref: Chem. Rev. 2023, 123, 9, 5459–5520
Link: https://pubs.acs.org/doi/10.1021/acs.chemrev.2c00767
Tweet: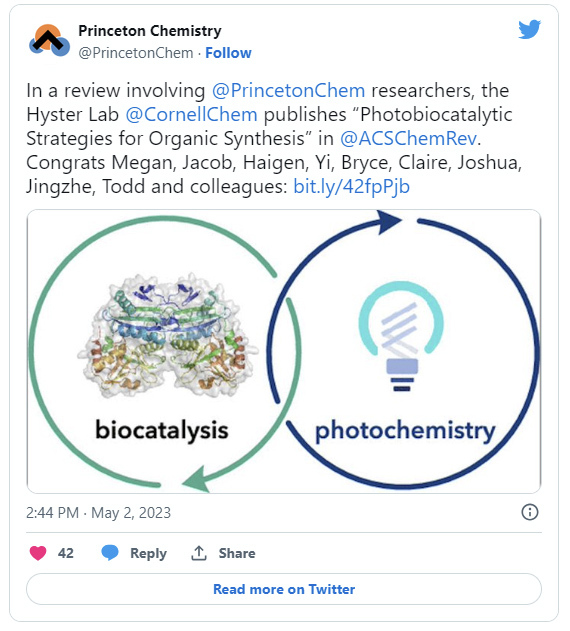 Comment: And to end the list, a review for the road or sitting in the airport while your flight is inevitably delayed or cancelled. A great summary of biological photochemistry methods for synthesis. Congrats to everyone in the Hyster lab, and I mean everyone in the lab, who contributed to this work.
Photo Reactor
더 자세한 정보는 켐코코리아로 문의하세요~!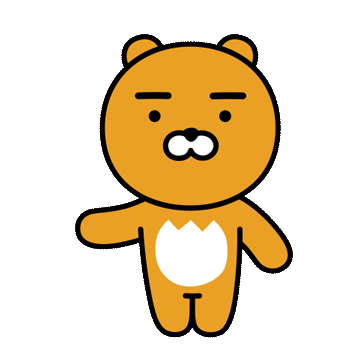 켐코코리아 주식회사
Tel. 043-215-2012
e-mail. ck@chemcokorea.com
Web. http://www.chemcokorea.com/
Comments